Sauer Compressors Canada implements SF6 Solutions with Oil-Free Compressors
SF6 gas is a halogen compound, which as a greenhouse gas that has a very harmful effect on the environment. It can remain stable in the atmosphere for 3200 years. The greenhouse effect for SF6 is 23,900 times as large as for the same quantity of CO2.
Despite its harmfulness, SF6 is an essential gas and is used, for example, as an insulating gas in high voltage switches. SF6 has excellent properties for electrical insulation and the suppression of electrical arcs during switching. With the rapid increase in global electricity consumption, the demand for high voltage switches increases.
Sauer clients are the largest plant manufacturers of recovery plants and the world's leading energy engineering companies in the field of power supply.
Gas-tight and oil-free compressors are an absolute must in connection with the SF6 gas recovery. The recovery systems are used irregularly during the maintenance of high voltage switches. The systems are used worldwide in all climatic conditions. Therefore, very reliable and maintenance-friendly compressors are demanded.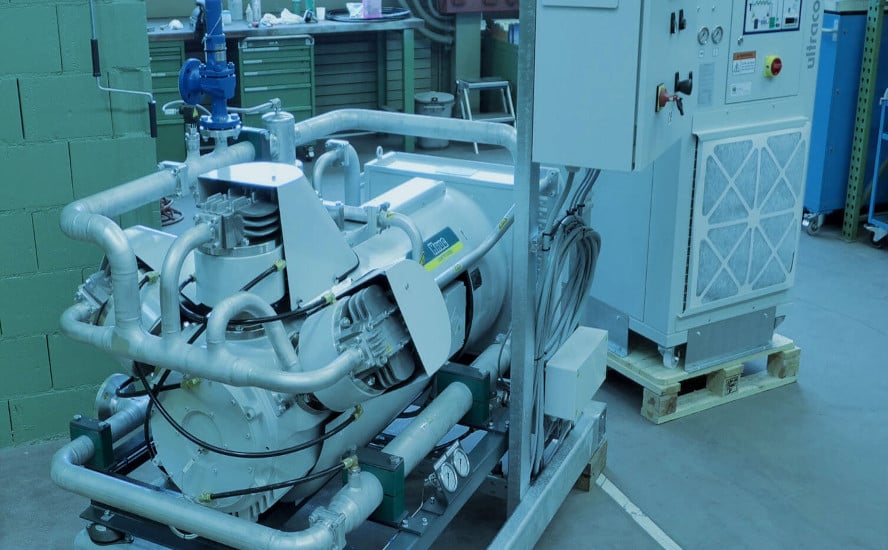 HAUG Sauer Solution
The HAUG Sauer solution includes a 1-2-stage compressor from the series Pluto, Mercure or Sirius. The compressor operates oil-free and dry running and is equipped with the hermetic and contactless magnetic coupling. The compressor is air-cooled. The package is adapted to the customer requirements, from the compressor block to completely cased system with control.
The key arguments for HAUG Sauer are high reliability, great experience, absolute oil-free and gas-tight, individually tailored to the customer compressor solution.
– Gas contamination and the contamination of installations and equipment is avoided by oil-free compression
– Technically leak-tight gas compressors in operation and standstill and hence, no leakage to the environment
– Application in gas recovery systems for maintenance of high voltage switch
– Oil Free Compressors require minimal maintenance
About Sauer Compressors Canada
Sauer Compressors Canada specializes in medium and high-pressure air and gas compressors for applications in general industry, petro-industry, commercial shipping, and the defense sector in the Canadian market.
Sauer Compressors are the global leader in the market for medium and high-pressure compressors, with pressures up to 7,000 psi, rated for continuous duty, and tested in the most demanding conditions to provide true 24/7 reliability. In addition to standard products, we offer customized solutions for our customers, OEMs, and companies that operate on a global stage.